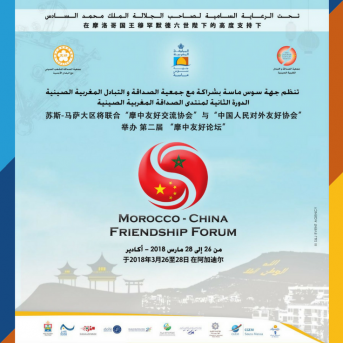 Moroccan Chinese Friendship Forum Press conference
The Region Souss Massa has been engaged for  many years in the strategic processusof the kingdom in developping the moroccan-chineese relations.
The  policy of the ope ness launched by the region Souss Massa has been accompanied by a number  of meetings and interesting events with different chinese delegations representing different  sectors such as agriculture, fishery, shipbuilding industry, pharmaceutical industry …with the aim of looking for oppurtunities of cooperation and partnership with new partners.
Within the framework of its international openness, the region Souss Massa in partnership With the Morocco-China Friendship and Exchanges Association organizes the second edition of  the Morocco-China Friendship Forum, which will be held in Agadir from March 26 to 28, 2018.
A press conference that unveil the strategic objectives of the forum, its challenges, the different stakeholders and the program will be held on Monday  March 19, 2018 at the Atlantic Palace Hotel in Agadir at 9:30 AM.