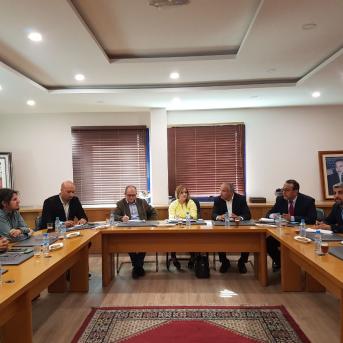 9 April 2018
A visit of a delegation from Ile de France to the Souss Massa Region
The Vice-President in charge of Culture, Mrs. Khadija Arouhal received on Monday, April 09th 2018 at the headquarters of the Regional Council Souss Massa a delegation of the Ile-de-France Region in the presence of Mr. Oubari Vice President in charge of regional development, Mr Khalid Moktadir Chairman of the Committee of Cultural Development and Mr. Mohamed Elaboubi Chairman of  Economic Development Committee.
This meeting was an opportunity to present to the French delegation members the decentralized cooperation programs of the Souss Massa Region with the French regions and departments "Aquitaine, Hérault, Isère". It was also an opportunity to discuss potential partnership projects to be developed and implemented in the future.
The delegation from the Ile-de-France region consisted of:
Mr Brice NKONDA, Regional Councilor, Chairman of the Committee of Transport and Mobility
Mr. Mustapha SAADI Regional Councilor.