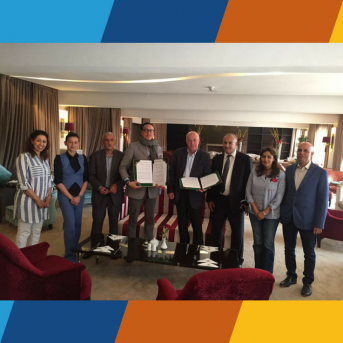 12 May 2018
Agadir will be displayed on the official beIN Sports Russia 2018 clip
CRT Agadir SM signed a contract with RedOne Records this Saturday, May 12, 2018.
Great news for tourism in Agadir! The seaside city is about to enter the legend thanks to a promotional operation that is completely new. While the eyes of the whole world will be turned towards Russia and riveted on all the channels of beIN Sports during the months of June and July, the landscapes of Agadir and its region will parade in front of hundreds of millions of TV viewers, staged in the clip of the official beIN Sports anthem for the Russia 2018 World Cup performed by the talented Moroccan artist RedOne.
This exceptional event, which took shape in a few days, was made possible thanks to the remarkable synergy between the Wilaya of Agadir Souss Massa, the Regional Council Souss Massa,  Agadir City Hall  and the ONMT  all of them in partnership with the Regional Council of Tourism of Agadir Souss Massa. The interest of such an advertisement goes far beyond the only segment of tourism since the whole city will gain prestige and influence.
 Saturday, May 12th 2018, the hotel Royal Atlas Agadir witnessed the signing of the contract   binding the city of Agadir to the production house RedOne Records .This wonderful promotional operation will start tomorrow on the most important sites of Agadir. The final clip, which will last 3 minutes and will be broadcasted up to 5 times a day during the entire World Cup and even 15 days before, will devote 1 minute to the attractions of Agadir, revealing the city charming facet to the entire planet on beIN Sports channels of all countries and on the artist's Youtube channel. For the record, RedOne's previous song "Boom Boom" reached more than 114 million views on YouTube, providing a worldwide visibility of Morocco through this artistic media.
#VisitAgadir#morocco #agadir #surf #spa
#redoneworld #maroc
#BoomBoomRedOne